$5,662 Donation from Canal Winchester Middle School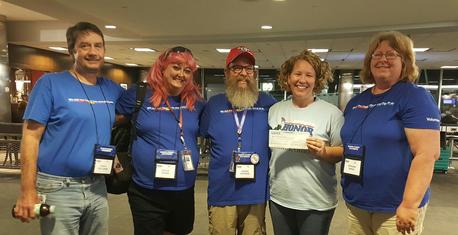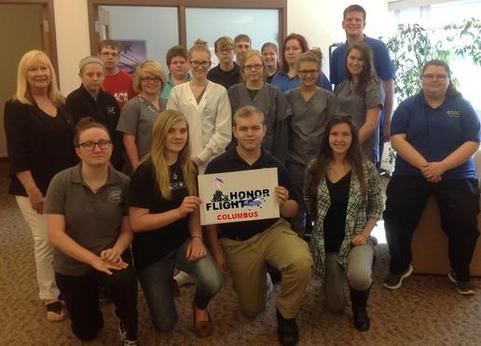 The JOG (Jobs for Ohio's Graduates) class at C-TEC of Licking County recently donated $1,500 to Honor Flight Columbus. They raised the funds from the Heavy Metal War.
JOG Class at C-TEC donates $1,500
Woodmen Life Representatives Donate Flags for Veterans
The Southwest Airlines SOS Charter Team presented a check for $1,350 to Honor Flight Columbus during the October 21 trip.
Honor Flight Columbus (Roger Dyer and Joe Machado) with Ray Joseph (Vance Oudoors) at Goodale Masonic Lodge on Monday, 12 February receiving a donation from Brad Swint of Goodale Masonic Lodge. Goodale Masonic Lodge is partnered with Vance Outdoors again for their 2018 Fundraising Campaign for Honor Flight Columbus.This is the third annual Vance Fundraising campaign for Honor Flight Columbus.
Honor Flight Columbus was one of local charities sharing the funds raised at the Ohio Shootout for Soldiers event on July 15-16. The event, held at the Obetz Fortress, featured lacrosse matches and other competitions.

Funds were split among 8 charities (6 national and 2 local).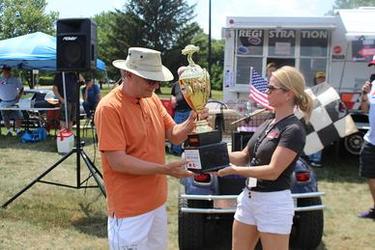 Chase Military Employees Group and Westerville Rotary Donations Total $13,000
Southwest Airlines Team Donates $1,350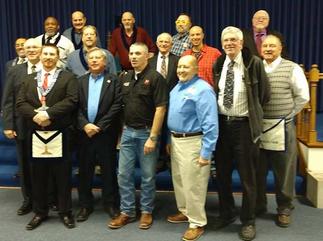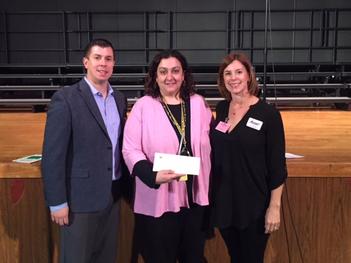 ABC Drivetrain Parts & Services Donates $1,200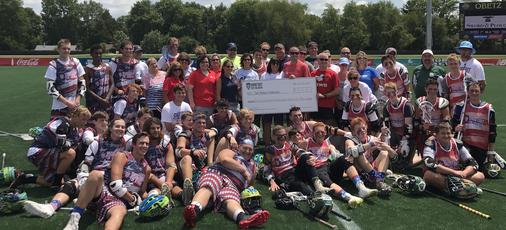 $2,800 Donation from Golf Outing
Wade and Cindy Wetzel, representatives for Woodmen Life, have presented our veterans with a 3' x 5' American Flag after each of our Honor Flight trips.

What a wonderful tribute to our honored veterans.
Jeff Hinerman, owner of ABC Drivetrain Parts & Services in Lancaster, presents a check for $1,200 to Jim Downing, Honor Flight Columbus president. This represents the proceeds from the company's 2017 Veterans Day fund raiser program for Honor Flight Columbus.
Honor Quilts - Ohio Donates Handmade Quilts
L-R: Kimm Bush, LE Manager and Marketing Director; Randy Rhinehart, Program Director for the Auto Smarts Radio Show; Joe Machado, Honor Flight Columbus Board Member; Ray Joseph, Shooting Range Manager; Dan "Boots" Longenette, Radio Show Host for Auto Smarts Radio; Todd Vance, President of Vance Outdoors Inc.; Regina Vance, Vance HR Department
Eighth graders at Jones Middle School in Upper Arlington raised over $3,500 for Honor Flight Columbus.

Shown in the photo from the May 3 check presentation: Mitch Stafford, Honor Flight Columbus volunteer; Nicole Morgan, Jones Middle School teacher; Carolyn Barger, Executive Assistant Director, Honor Flight Columbus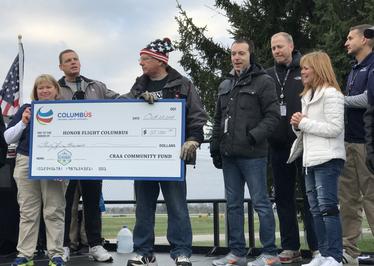 Honor Quilts - Ohio presented each of our Purple Heart Vietnam veterans on the October 22 flight with a beautiful handmade patriotic quilt thanking them for their service to our country.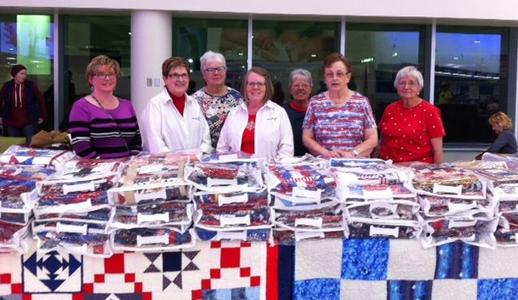 Goodale Masonic Lodge Partners with Vance Outdoors for HFC Fundraiser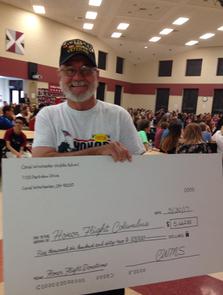 Diane Fosselman, head of the Honor Flight Columbus Westerville Committee, accepts a $10,000 check from the Military Employees Group at Chase. Presenting the check are Michael Richard (left) and Anthony Anzic of Chase. In addition, the Westerville Rotary donated $3,000 to Honor Flight. The proceeds were from the 2017 Veterans Day 5K run sponsored by the Rotary and Chase.
Honor Flight Columbus volunteer Bob Jackson accepts a $5,662.83 donation from the Canal Winchester Middle School. The school raised the funds from several activities, including a promotion with Mod Pizza.​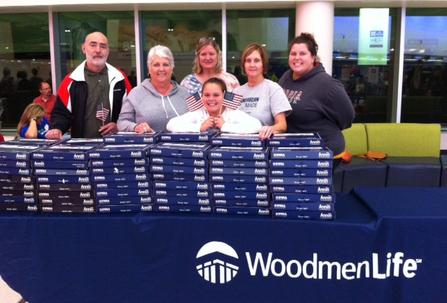 Vance Outdoors, Inc. donates over $25,000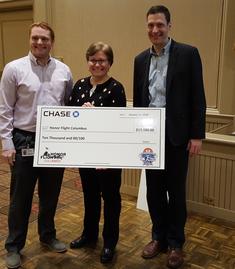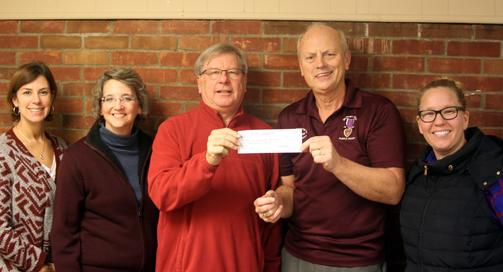 Purple Heart Organization Donates $1,000
$3,500 Donation from Jones Middle School
Vance Outdoors held a fundraiser beginning in April and ending with a live radio show, a classic car cruise-in, and a raffle on June 11.

The activities resulted in donation of $25,089.13, which paid for 50 veterans to take the trip to see their memorials in Washington, DC.

Additional photos below are from the events on June 11.
Honor Flight Columbus thanks these groups for their recent donations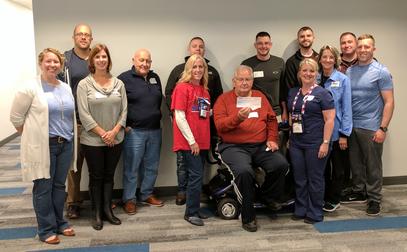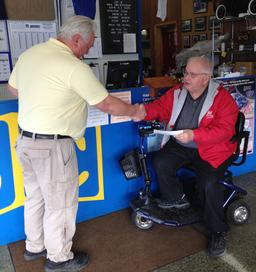 Shootout for Soldiers Event Raises $45,172.48 for 8 Veterans-Oriented Charities
Members of the Ohio National Guard donated $2,655 from multiple fundraisers.

Several Guardsmen will serve as Guardians on the May 13 trip. They presented the donation to HFC President Jim Downing and other Board members, Executive Director Bonnie Sparhawk, and Executive Assistant Director Carolyn Barger at the May 4 guardian training session.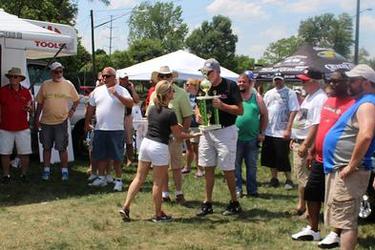 Darrell Drone and Brian Meyer presented a check in March for $2,800.

The donation was raised from a June 18, 2016, golf outing they organized at Split Rock Golf Course.
Roger Dyer (center), Honor Flight Columbus Vice President, accepts $35,000 check from the Columbus Regional Airport Authority team who developed and directed the John Glenn International Airport 5K Run & Walk. All proceeds were donated to Honor Flight Columbus.
$2,655 Donation from Ohio National Guard Members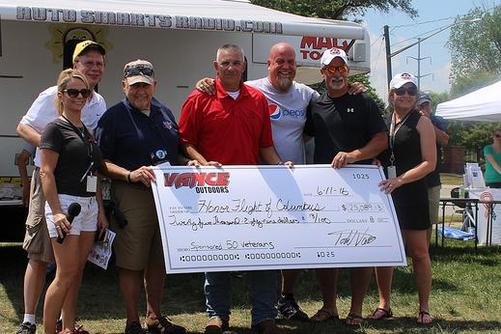 The Ohio Department of the Military Order of the Purple Heart donates $1,000 to Honor Flight Columbus.

Tom Cunningham, the organization's Judge Advocate (second from right) hands the check to Honor Flight Columbus Vice President Roger Dyer. Also participating (from left) are HFC Assistant Executive Director Carolyn Barger, Board Member Cindy Kanwar, and Executive Director Bonnie Sparhawk.
5kOnTheRunway Event Raises $35,000 for Honor Flight Columbus